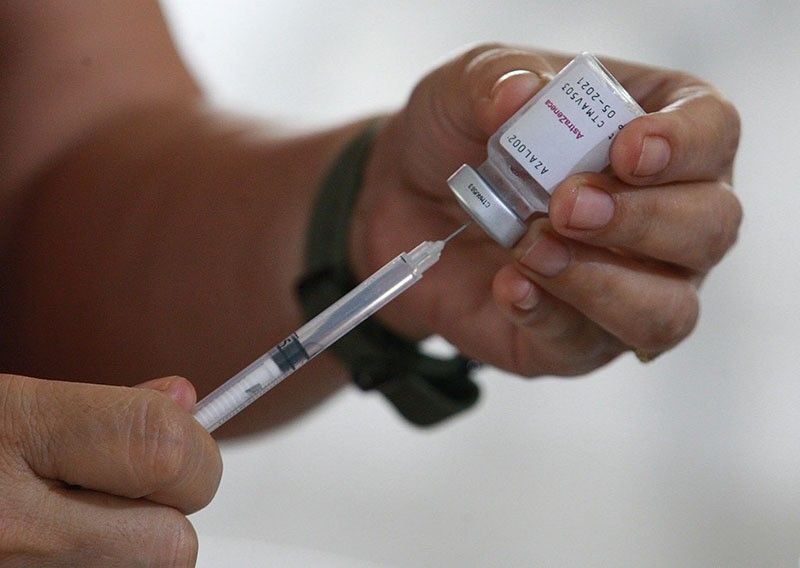 Frontliners get inoculated with Aztrazeneca COVID-19 vaccine during the continuation of vaccination for health workers and frontliners at Marikina Sports Complex on March 24, 2021.
The STAR/Michael Varcas
Governors, mayors in high-risk areas allowed to get COVID-19 vaccine
MANILA, Philippines — Mayors and governors within critical or high-risk areas are now classified as healthcare frontliners and may now take coronavirus vaccines ahead of their scheduled priority, the National Task Force against COVID-19 said Sunday.
This was confirmed to Philstar.com in a phone call by NTF deputy chief implementer Vince Dizon, who said that the critical areas do not necessarily have to be within the so-called "NCR Plus" bubble.
The IATF resolution was already approved earlier Sunday, Dizon said, and is effective immediately.
"The main reason for this is we consider them very essential frontliners. In a war, the mayors and governors are our commanders in these frontlines. They are the ones we rely on in the enforcement of the minimum health standards, for contact tracing, for the massive vaccination effort...it is very important that we recognize this," Dizon said.
"We are now very happy that they can be vaccinated, but they still have to follow the guidelines."
Dizon added that he did not expect this to affect the Department of Interior and Local Government's investigation into local executives who jumped their own priority lines before the passage of the resolution, though he opted not to comment. "Those incidents happened prior to this directive," he said.
Philstar.com has reached out to the DILG for comment but it has not responded as of this post.
The original proposal stemmed from a letter by the League of Cities of the Philippines and addressed to President Rodrigo Duterte requesting permission to allow all local chief executives, mayors and governors alike, in the country to get their jabs as part of the first priority group, thus allowing them to get vaccinated as frontliners.
Duterte, himself a former mayor, endorsed the move to the Inter-Agency Task Force on Emerging Infectious Diseases. The latter approved the request but only for the over 400 mayors and governors in areas classified as high-risk by the Department of Health.
"Hopefully in the next couple of months...when our supply is already stable and sufficient, then all the other mayors in non high-risk can already be vaccinated as well," Dizon also said, though he could not yet offer a working timeline for this.
"It is important that we understand the reason for this is mayors especially in critical areas are essential frontliners who deserve to be protected."